Saree has always been one of the most popular ethnic wears amongst women throughout the country. Whether you are 16 or 61, the saree never fails to lose its charm or play its magic on you. In case that you too are intrigued by the saree look but fail to accomplish draping it beautifully around you, one of the best options for you to settle upon is the lehenga saree. You will find one of the greatest accumulations of these latest extravaganzas in the esteem stores of Karol Bagh.
The market is packed with stores catering to a wide base of apparel choices, with the beautiful lehenga sarees being just one of them. The fact that the market has a lot of varieties to offer at affordable rates while maintaining the quality of the products makes it one of the most popular places to shop in Delhi. Fancy products, good prices, and smiling salesmen, make up for the best shopping experience.
Why do you need a lehenga saree?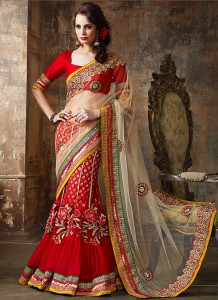 In case that you are still pondering on whether you should include a lehenga saree into your wardrobe or not, here are a list of five facts that will help you make that decision-
It is in-
The lehenga saree is one of the latest trends in thefashion world today, and Fashionistas and celebrities alike are screaming for more of them. These sarees have a lot of things working for them, all of which conclude it to be loved by both the women customers as well as the designers designing them. These are versatile and give you a new and different look, even when in a saree.
The Even look to your body-
Unlike sarees, which can be classified into different body types, the lehenga saree can be worn by all women, with no regards to their figure. It does not matter whether you have a pear, apple or hourglass shaped body, this saree provides an even look to all its wearers.
The sheer variety-
Thanks to the increasing popularity of the lehenga sarees these can now be found to be made out of a number of materials. These make them apt for a number of different occasions, such as weddings, receptions and also other events. Designers are exploiting their creativities to the utmost and coming up with some of the best outputs in terms of designs, silhouettes, and ornamentations. You can pick any lehenga saree to pull off a new look for any festive event.
The cross look-
These sarees are very unique as they are a cross between the saree and the lehenga. You get a compiled look of the both, without having to deal with the hassles that each of them provides.